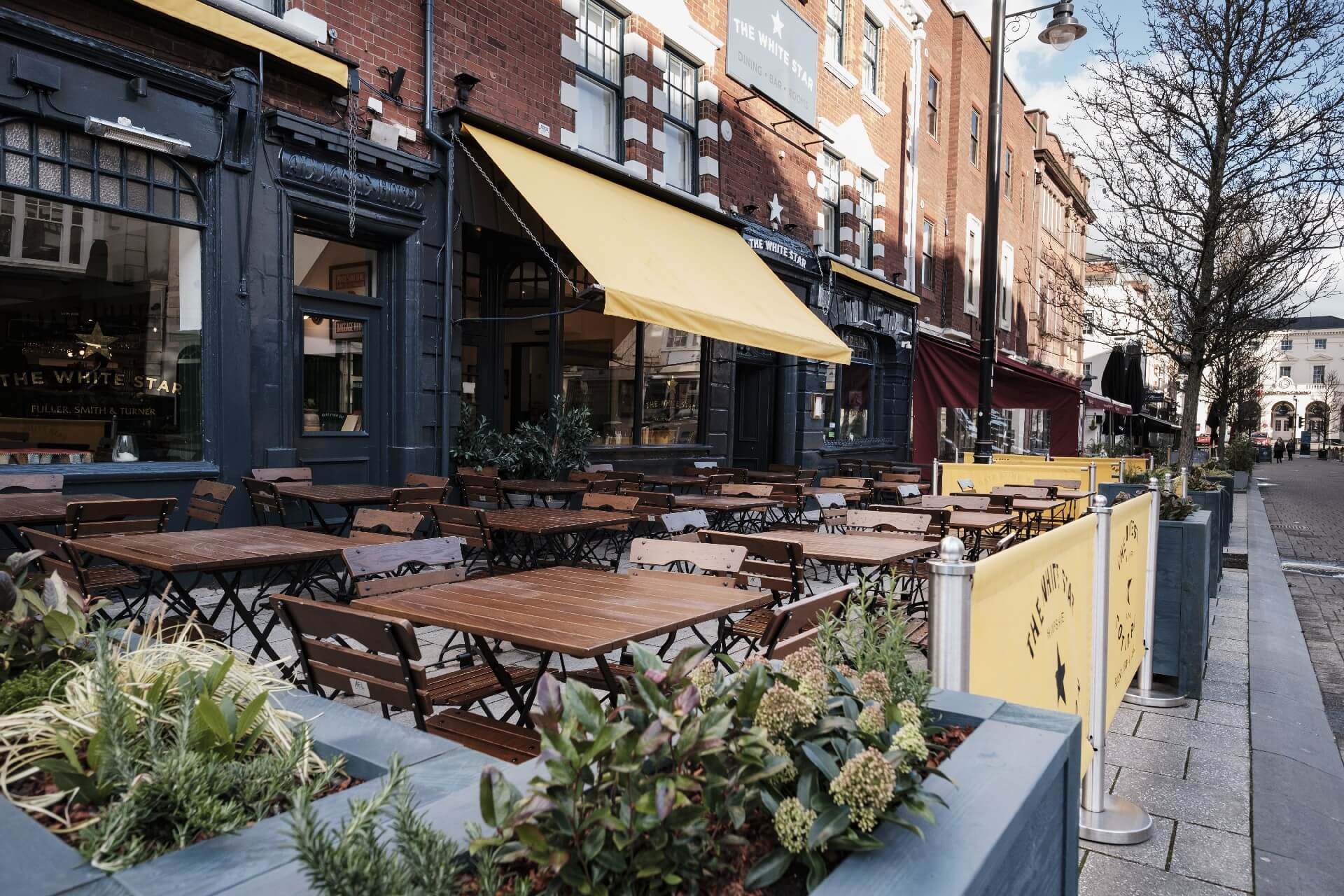 The White Star Tavern, Southampton is an award-winning hotel, bar and restaurant. Located centrally, close to the river on vibrant Oxford Street, the pub mixes timeless, comfortable elegance with modern drinking and dining.
Eating and drinking
We're proud of the great quality of our food – and delighted to say it's won numerous awards. We offer a wide range of specialities throughout the day, so feel free to join us whenever suits you. And if the weather holds out, then why not enjoy a meal outside on our terrace?
We offer some tasty gluten-free options, and always provide details of produce origin where possible. Plus we offer a special menu for our delicious Sunday lunch with all the trimmings, and a dedicated children's menu for little hands.
At the bar, you'll find five much-loved Fuller's cask-conditioned ales and beers on tap, renowned for their well-balanced, distinctive flavours. And of course, our range of drinks extends well beyond beers. We have 70 handpicked wines and a selection of sherries, ports and sparkling wines on offer, as well as ciders, premium spirits and soft drinks – all ideal for sipping in our cosy bar.
Our meeting rooms are convenient for mini-conferences and private parties alike, and include free WiFi as standard. Contact us now to make a booking – all we require is information on the number of people attending, and the type of event you're looking to host. Then just leave it to our skilled team to bring your event to life, as well as to ensure your expectations are met.
Stay at the The White Star Tavern
If you're looking for a boutique hotel in Southampton, our rooms make a wonderful base from which to explore our exciting city. In a nod to the area's nautical history, our stunning Beautiful Bedrooms by Fuller's are ship-themed – just our way of making your stay with us all the more memorable.
Whether you choose one of our Lower Deck, Upper Deck or Middle Deck rooms, each one is named after a ship from the White Star Lines fleet. We've also tried to emulate elements of the Titanic's original grandeur throughout – with all those modern touches of luxury you'd hope to find too.
You'll find satisfyingly comfortable double-beds and well-appointed monsoon shower rooms in our Upper Deck rooms, along with flat-screen televisions and complimentary, fully-stocked mini bars. Our luxury Egyptian cotton sheets, coupled with plump soft pillows, will ensure a great night's sleep. Book direct with us today, and take advantage of our Best Price Guarantee.